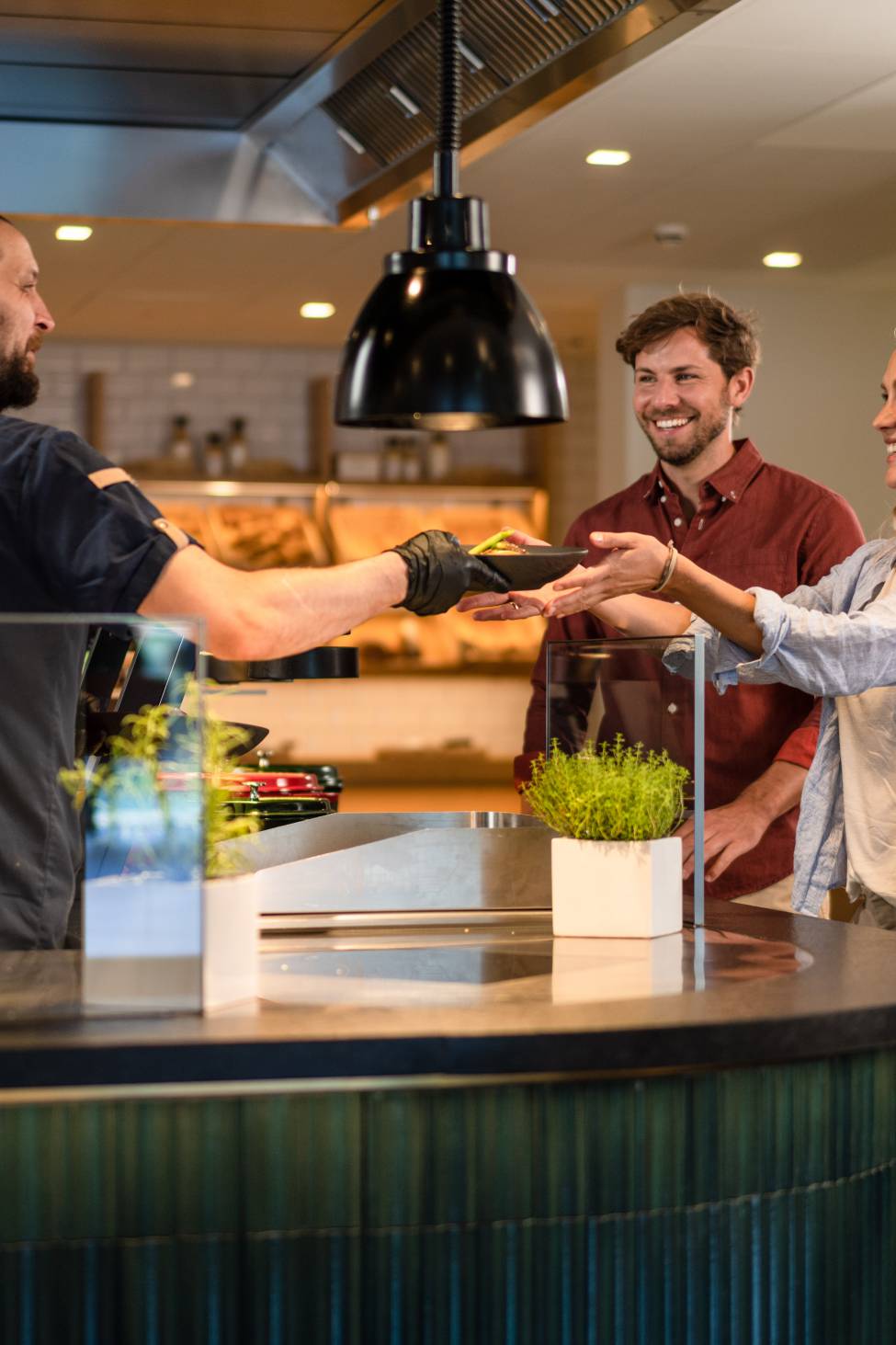 Culinary delights
Tempting delicacies during a pleasure vacation
Our kitchen team puts together a celebration of the senses with culinary delectables in the spectacular natural setting of the Eibsee-Hotel: We conjure up tasty delicacies ranging from traditional Bavarian, regional and seasonal to international specialties for our guests with 1/2 board or 3/4 board and for events at Lake Eibsee.
Our special highlights include fresh fish from Lake Eibsee that fisherman Max Geigl catches for us and that we serve exclusively in "Das Restaurant", our restaurant for hotel guests. Another highlight: the premium " alpine simplicity" specialties in our evening restaurant, "Taverne".
Your event at the Eibsee-Hotel
Celebrate at Lake Eibsee
The impressive panorama between Lake Eibsee and the Zugspitze mountain offers a magnificently beautiful venue for important celebrations: Whether a family celebration or a company event, the Eibsee-Hotel and its team will see to it that you and your guests enjoy a most memorable time together.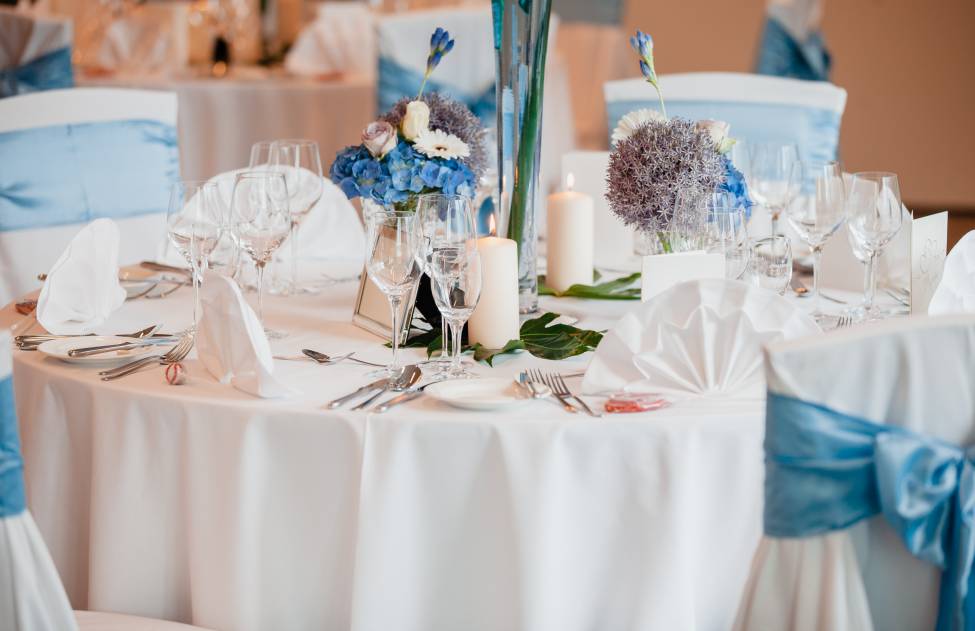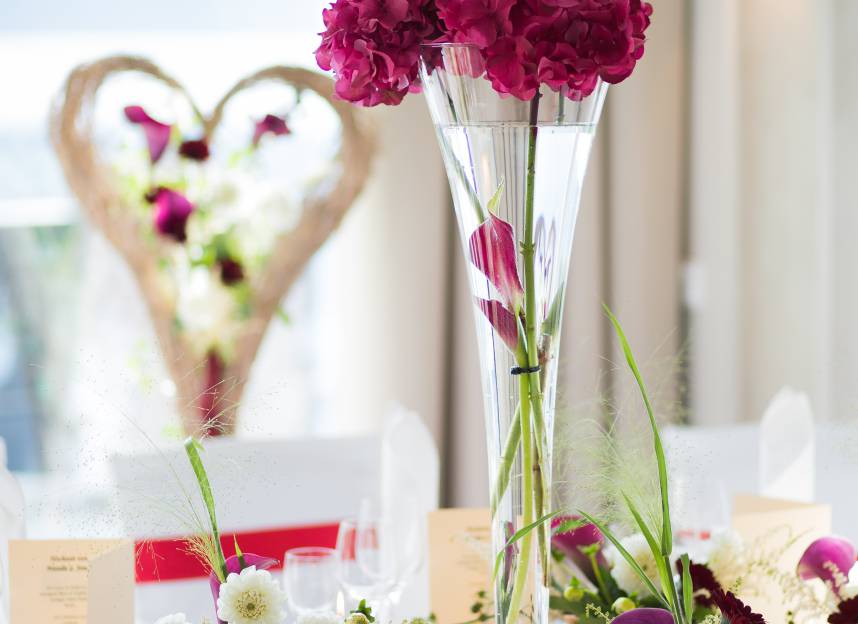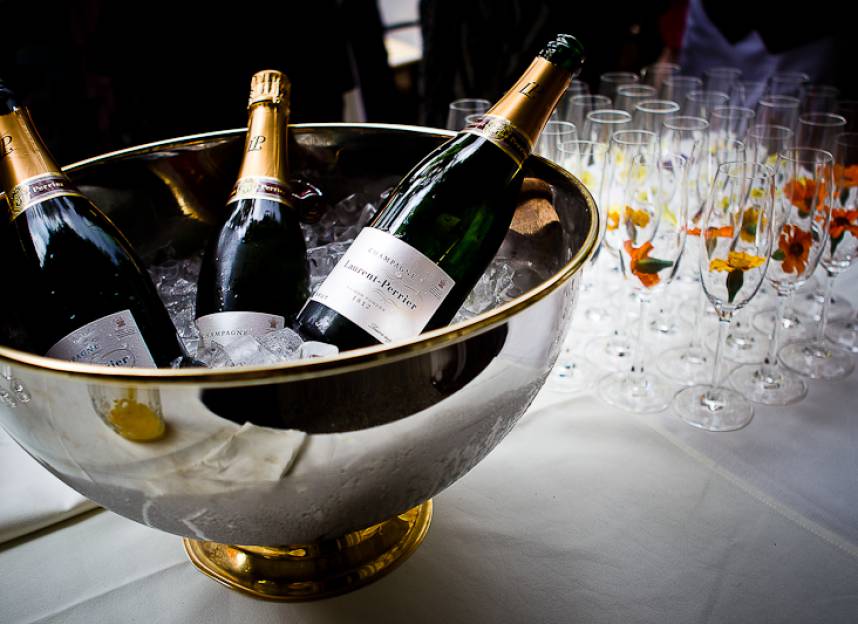 "Das Restaurant" at the Eibsee-Hotel
Fine regional & international dishes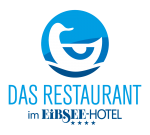 Only our hotel guests may use "Das Restaurant" at the Eibsee-Hotel with a capacity of 225 and a lakeside patio that seats another 66 guests and can be used for breakfast, lunch and dinner with lake view.
Opening hours:
Breakfast: 7:30 a.m. – 10:30 a.m.
Daily menu: 12:00 p.m. – 6:00 p.m.
Dinner: 6:00 p.m. – 9:00 p.m.
No closing day
Breakfast at the Eibsee-Hotel
Breakfast
Look forward to our sumptuous breakfast leaving nothing to be desired and served starting 7:30 a.m. for early birds. We spoil you with a large selection of healthy food, but of course we also have a hearty breakfast of bacon & eggs and much more that we prepare according to your wishes at our front cooking station. Guests with allergies will find gluten-free products and many more items at our breakfast-menu.
Lunch & homemade cakes
At lunchtime, we welcome you with a small lunch menu in our hotel restaurant.
In the afternoon, our much vaunted homemade cakes will delight your palate. You can have your cake and coffee or tea on the lakeside patio in the summertime.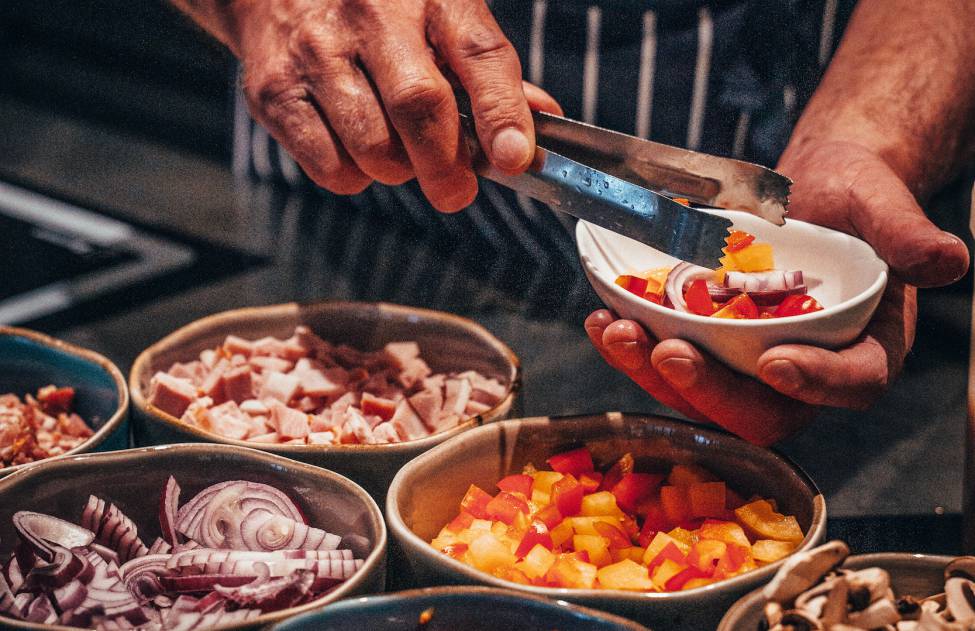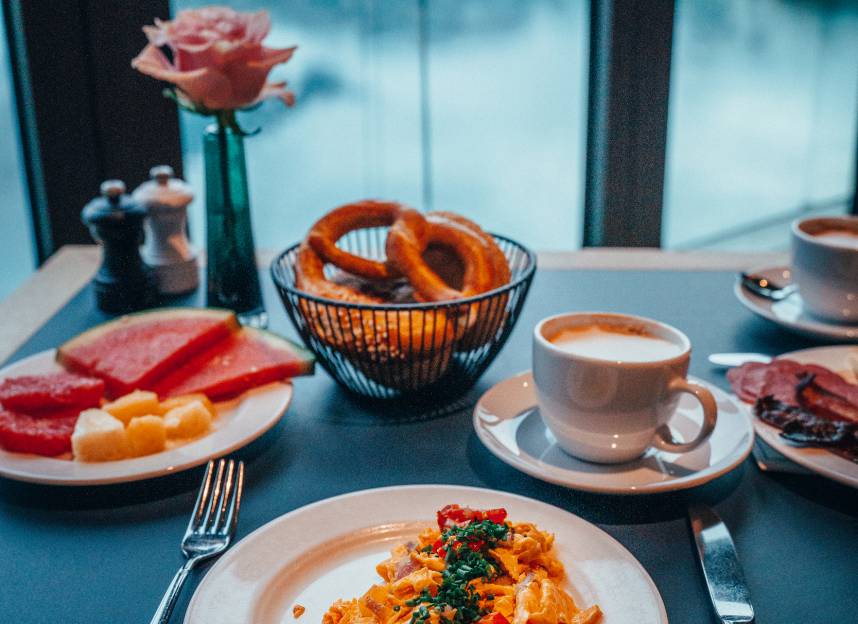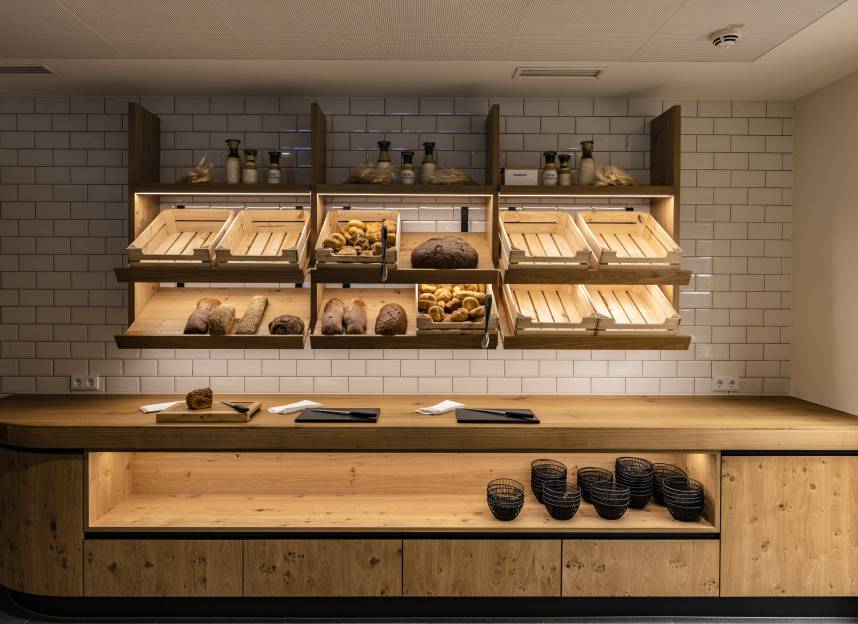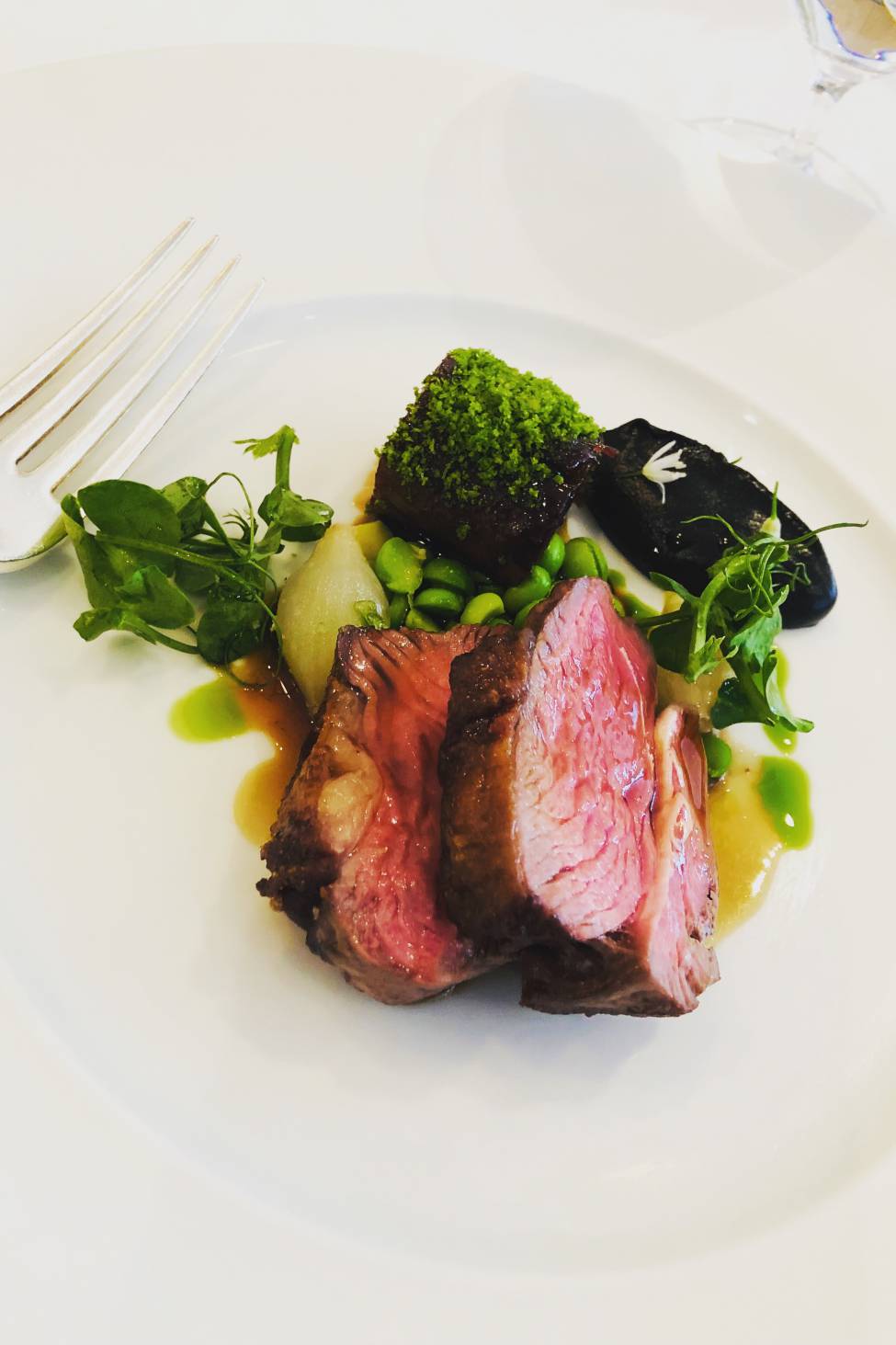 Dinner
Join us on the journey through our Seven Summits - we promise you a culinary highlight on each of the 7 evenings of the week. Our kitchen team will delight you with their creative ideas.
For guests who have booked breakfast only, we also serve à la carte meals in the evening. A selection of regional and international specialties awaits you in our restaurants.
In the spirit of the regional philosophy of enjoyment, we source the many fresh products primarily from a radius of 65 km.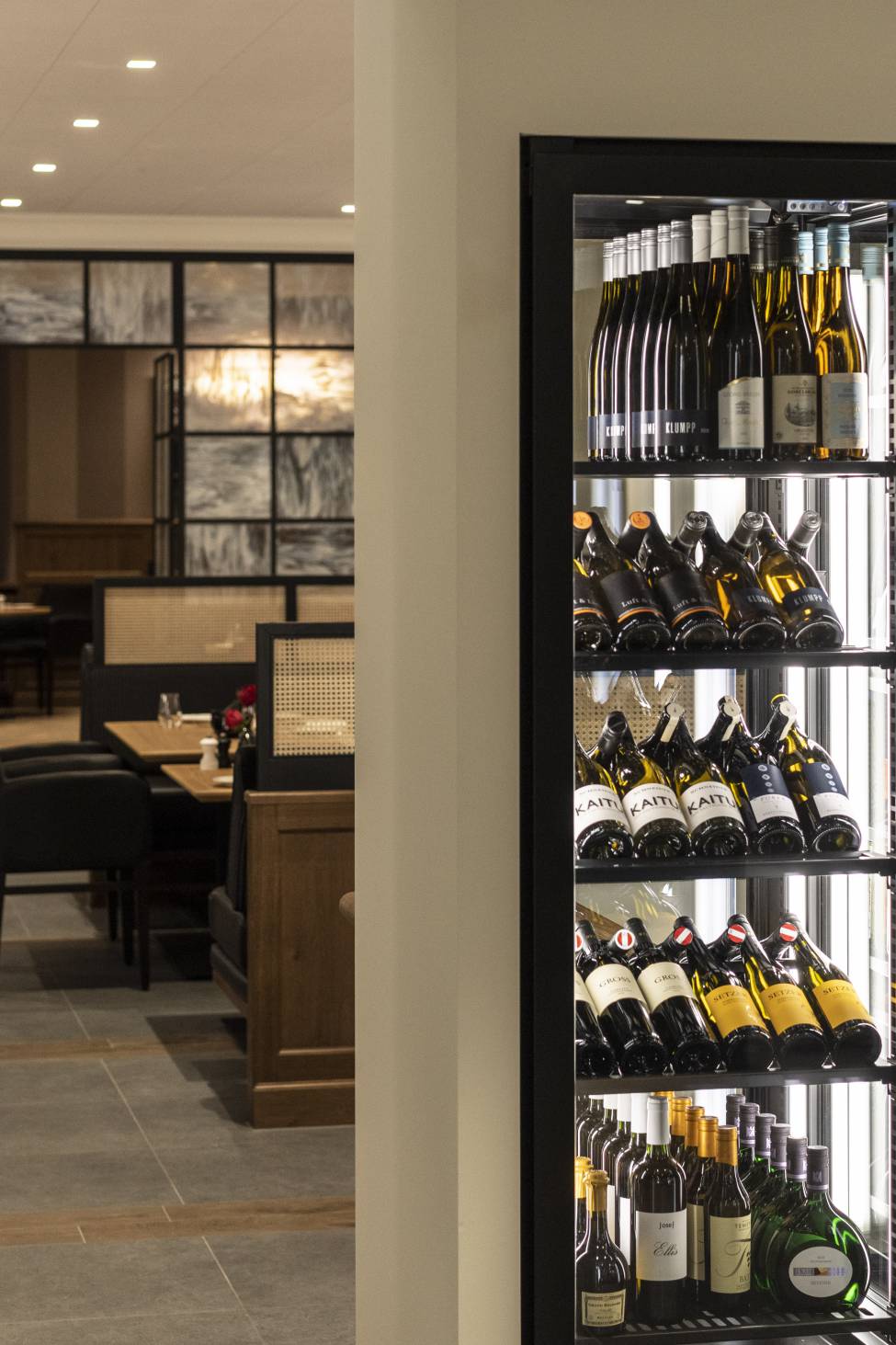 Fine wines
Our wine list with 50 to 70 items is sure to offer the right wine to pair with your meal.
The "Taverne"
- simply alpine - 



The "Taverne - simply alpine -" on the lake level of our house is open for our guests in the evening. As an alternative to the restaurant, you can enjoy a 4-course á la carte menu here as part of the EIBSEE¾Pension.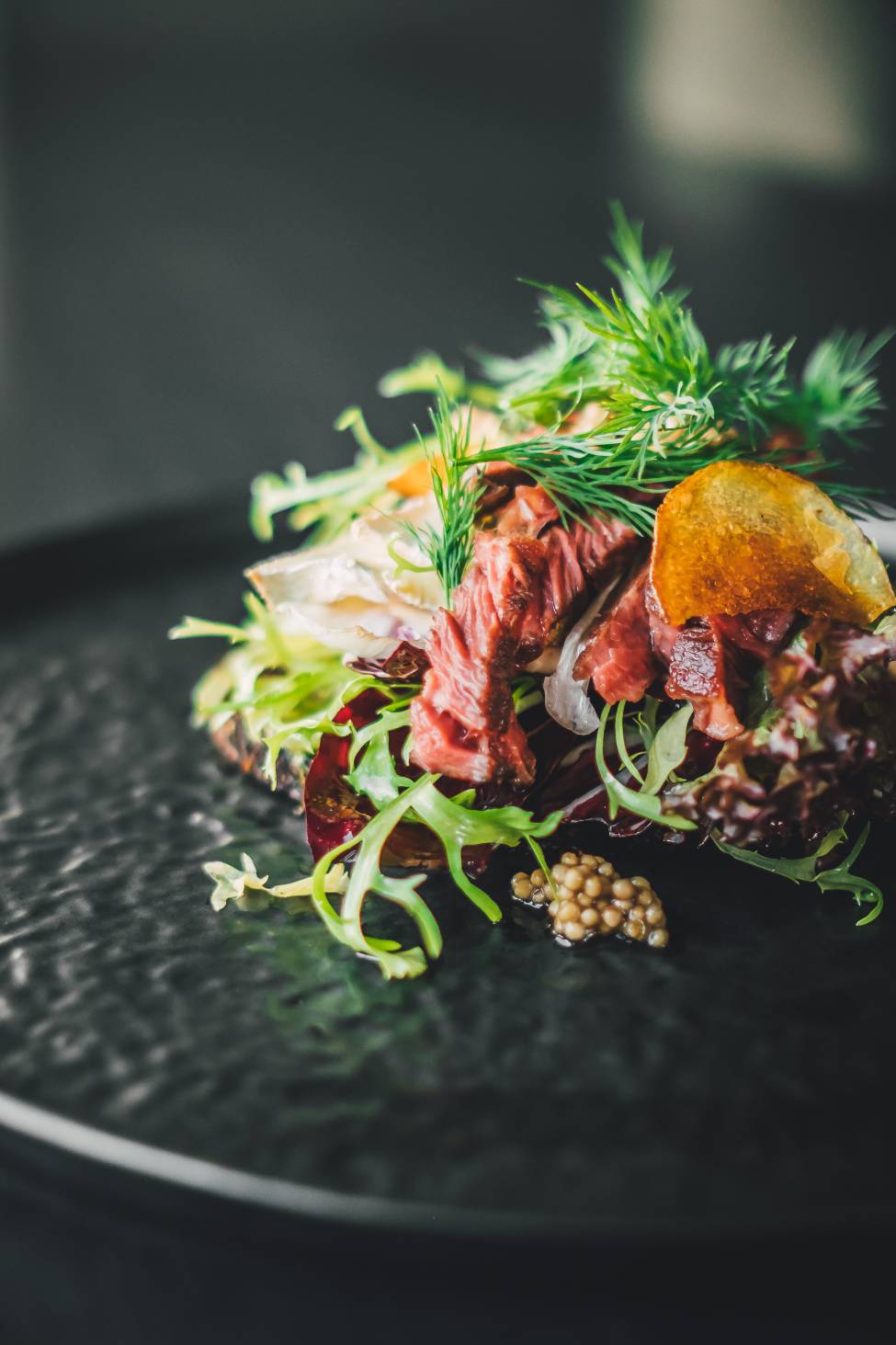 Our restaurant philosophy
We prepare first-class alpine dishes for you in our specialty restaurant. Healthy nature and local culinary delights, choosy selection and preparation of first-class, regional products - the Taverne restaurant's concept that produces an unmistakable taste of quality!
Dinner as a spectacular experience
in our Taverne - simply alpine - 
Timeless ambience with alpine design elements. The Taverne is not only a culinary experience: Discover the 7 peaks and mountain ranges from the region and enjoy the unique atmosphere in the Taverne.
Inspired by the first-class, alpine products and ingredients, our kitchen team creates fresh, light and sustainable dishes. Even more variety within the EIBSEE¾Pension: Choose your 3-course à la carte menu yourself! The selection of "natural wines" rounds off the unique restaurant experience. Just - simply alpine -.
In the summer months, enjoy dinner with breathtaking sunsets on the spacious terrace.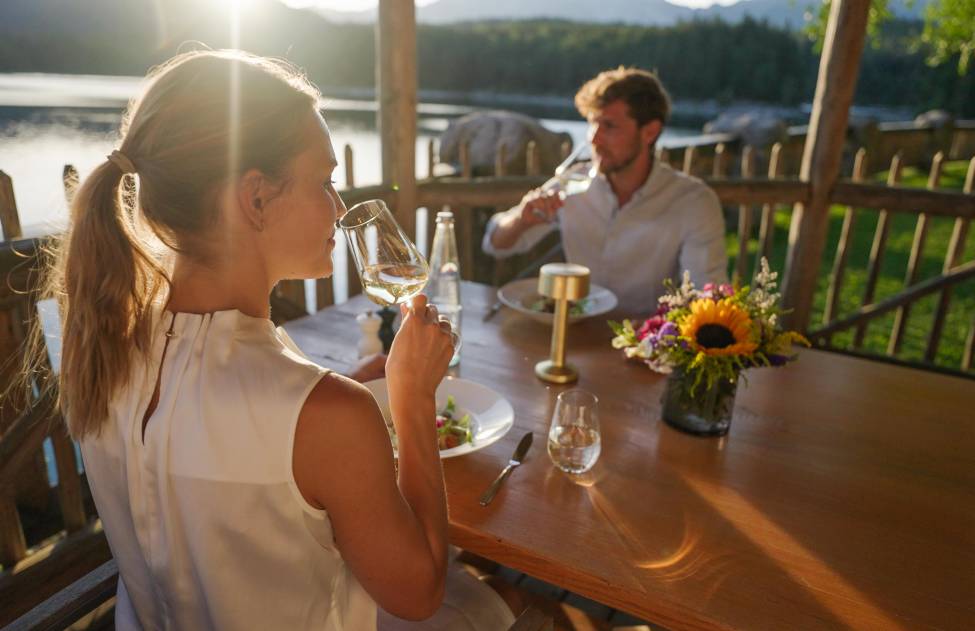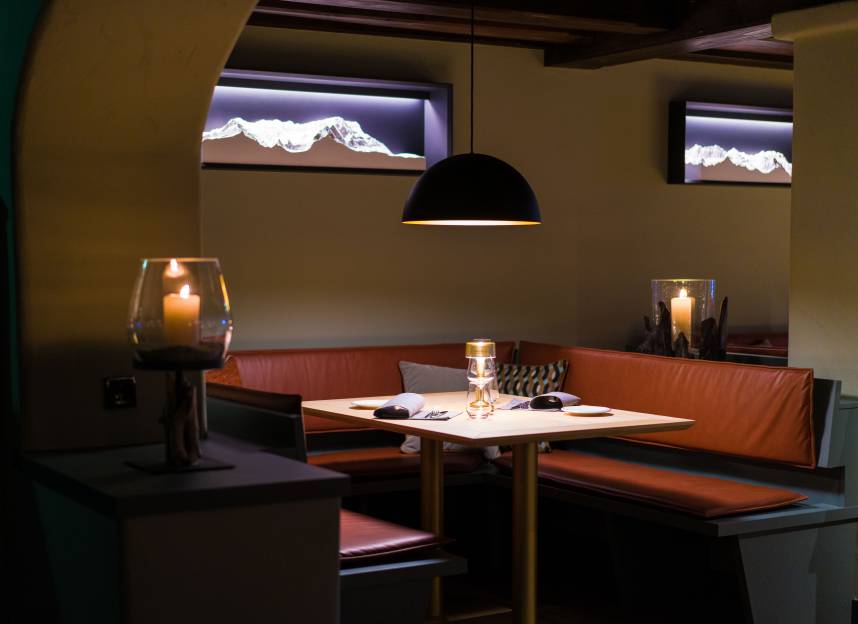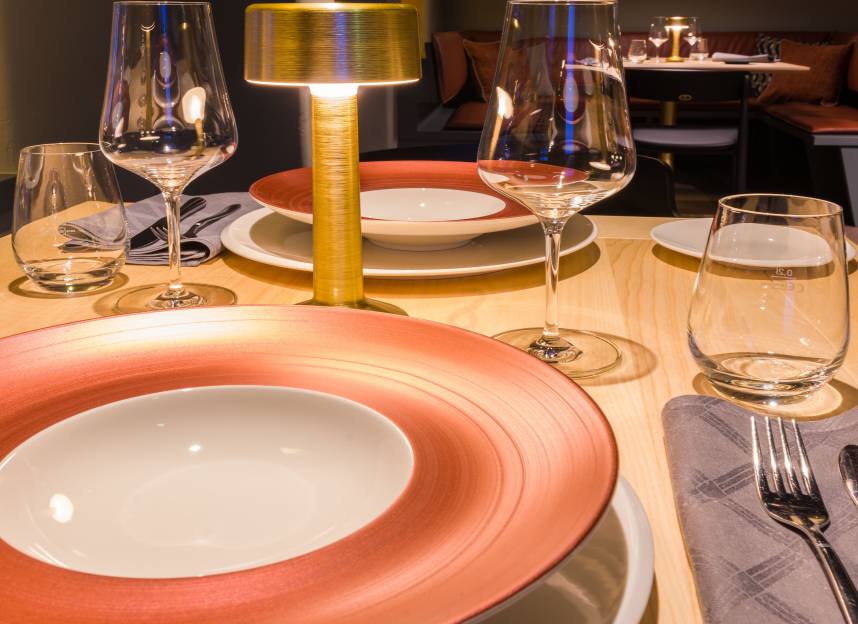 Our bars

Chill at the fireplace or on the sun deck
Enjoy the relaxed vacation atmosphere with a good drink: In the open air at our new Sundowner Bar in the summer. And by the fireplace at our "Kaminbar" in the winter.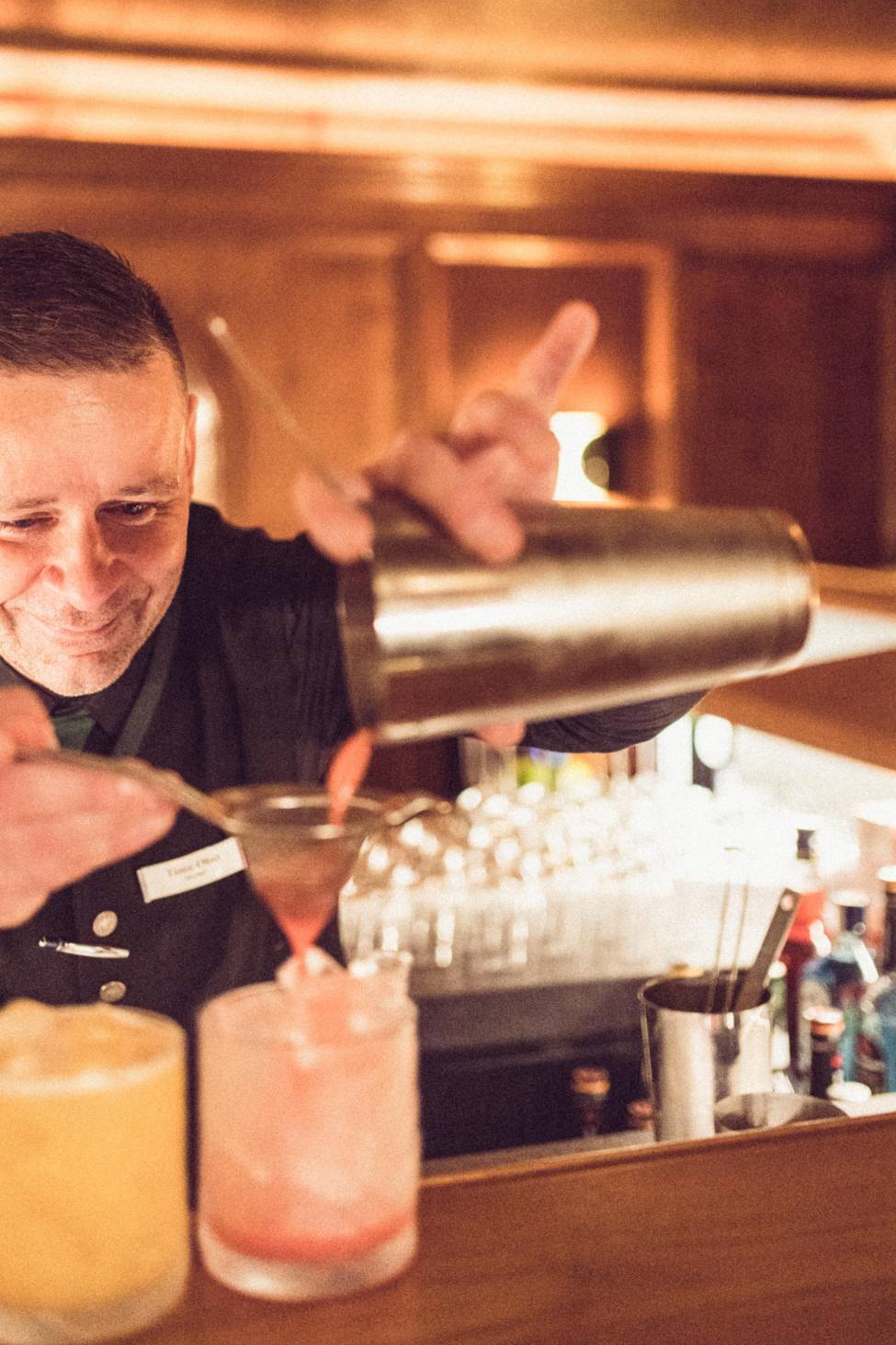 Kaminbar
Our Fireplace Bar awaits you with coordinated furnishings in the classic English bar style with wood paneled walls. You can read the daily newspaper here or in the attached lounge and enjoy a cup of coffee or tea. We light the two open fireplaces late afternoon already. The bar counter opens at 6:00 p.m.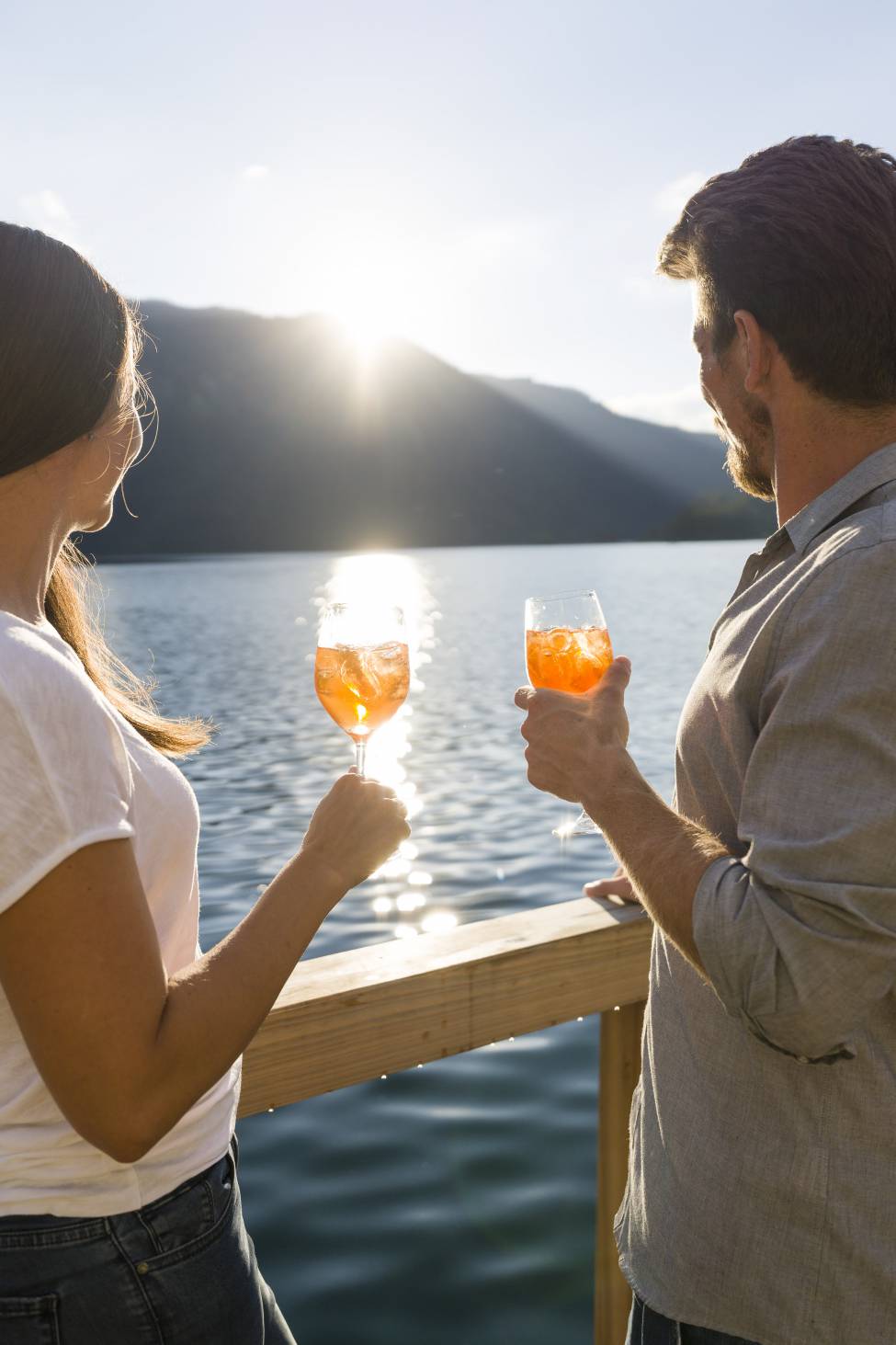 Sundowner Bar
In the summer, we open our Sundowner Bar on the sun deck below the restaurant for you daily. Here, you can enjoy a cold drink and chill with a view of beautiful Eibsee lake. Lean back and watch the sun paint the lake with stunning colours.
Summer highlight
Once a week - if the weather is suitable - 2 pedal boats are available for our guests to use free of charge directly in front of the hotel's dock starting 5:00 p.m. Before you embark on your pedal boat ride on Lake Eibsee, you can get a drink at the Sundowner Bar to enjoy while you pedal on Lake Eibsee.
Cash? You won't need any - you can conveniently charge the drinks to your room bill, while we assume the boat for you.
You can find out the next date at the reception desk.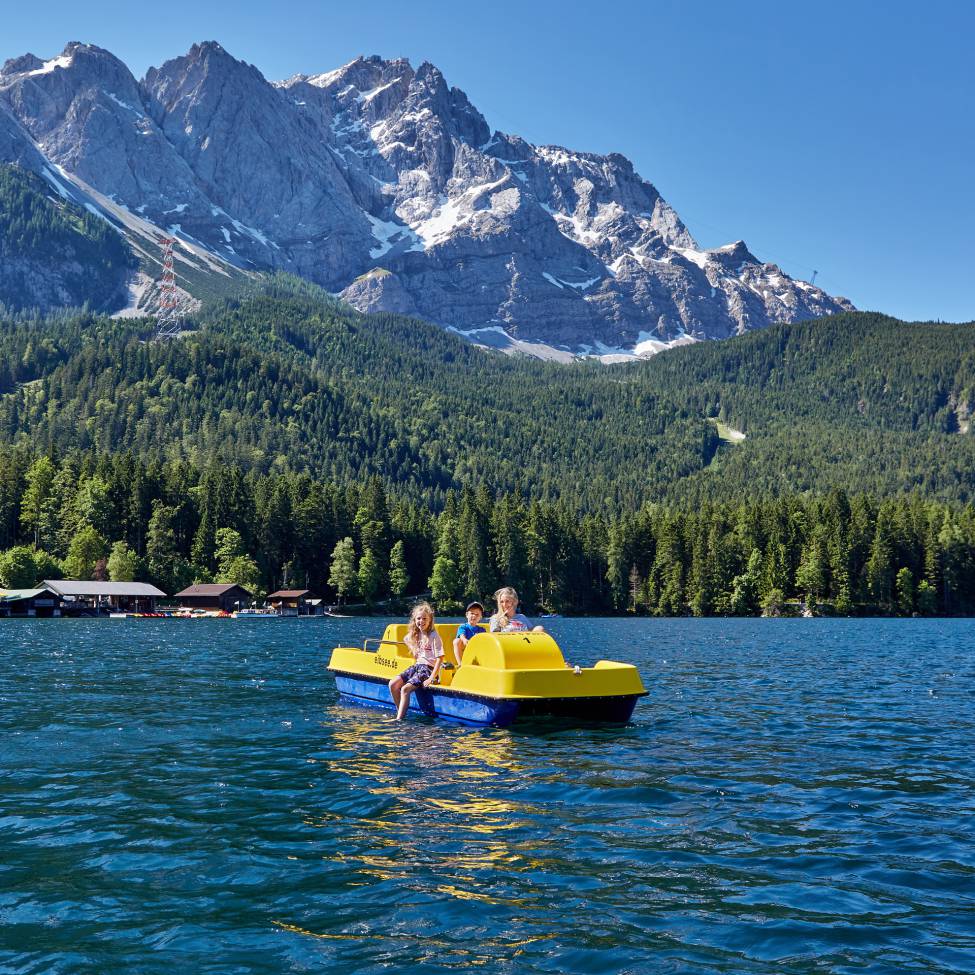 Other restaurants at Lake Eibsee
Enjoy your holidays
Besides the two restaurants directly at our hotel, you can also find a bite to eat and more at our other restaurants on Lake Eibsee. They, too, offer fine food, tasty snacks and refreshing drinks.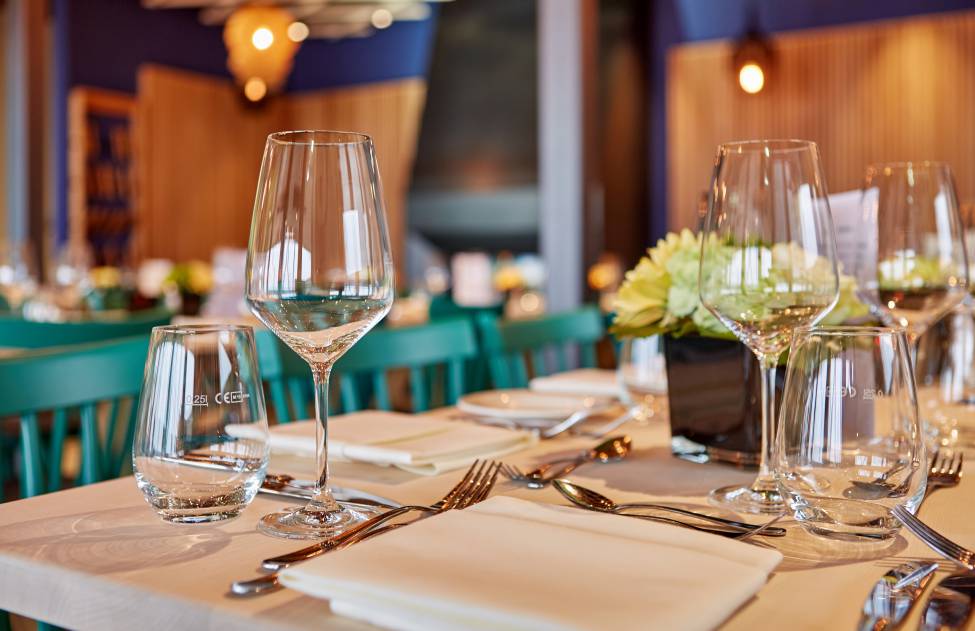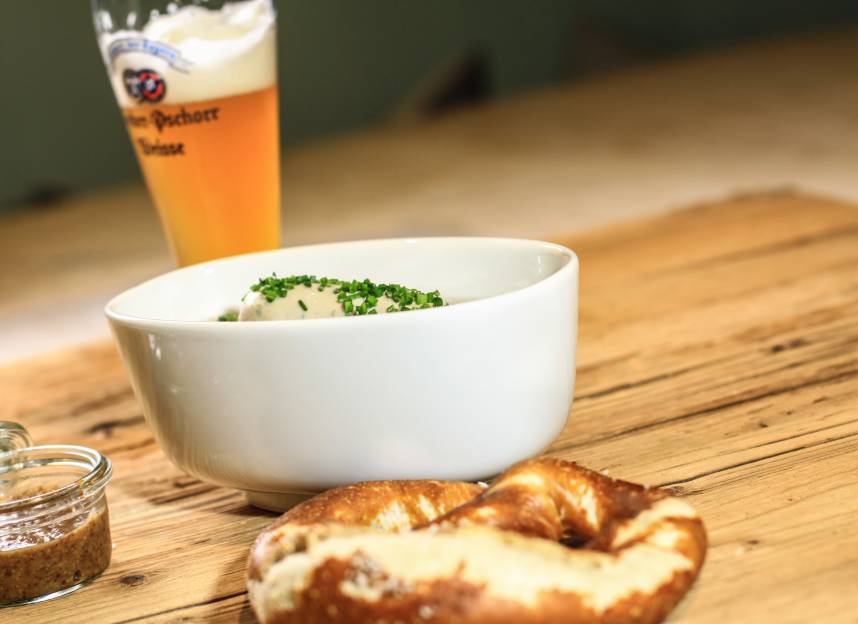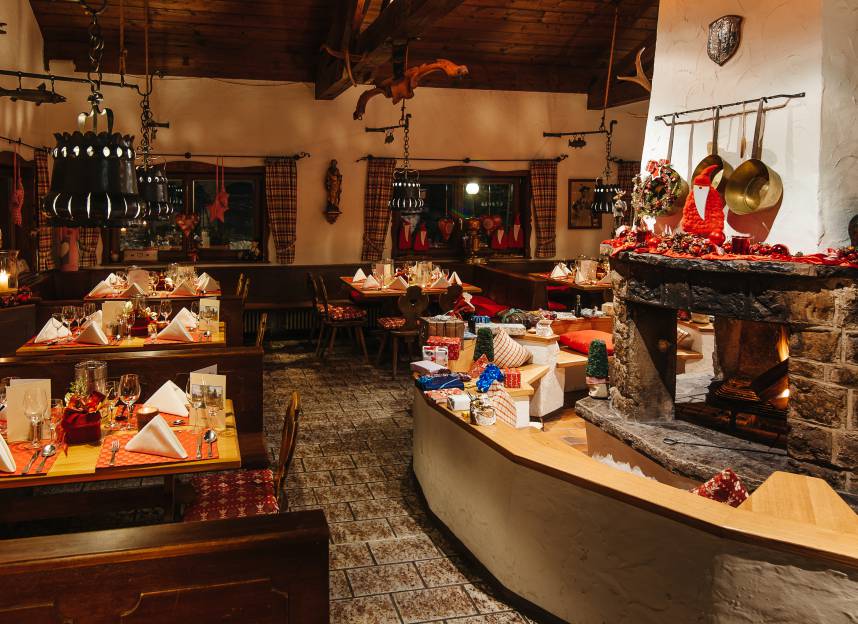 Eibsee Pavillon
The Eibsee Pavillon lake restaurant with its large panorama terrace offers a stellar view while also featuring Bavarian specialities, tarte flambée, salads and homemade cakes. Of course, guests from outside the hotel are also very welcome.
Eibsee Alm lodge
Our rustic alpine lodge in a Bavarian style and with a panoramic terrace and an adventure playground opens its doors daily from 10:00 a.m. 6:00 p.m. in the summer. Enjoy typical Bavarian delicacies à la carte. And warm yourself by the fire of the large open fireplace in the winter.
Moreover ...
A beer garden, the Eishüttl (our quaint ice cream cabin), ... yes, Lake Eibsee has more culinary specials in store for you.