Zugspitze & Eibsee
Welcome to a natural paradise
The clear, shimmering emerald-green water and the beautiful alpine panorama lend Lake Eibsee an irresistible magical charm. At an elevation of 1,000 m (3280 ft.) at the base of the mighty Zugspitze, the lush green of the forests in the summer and the snow-capped tops of the pine trees in the winter are an unmatched setting for active and sporting recreation. The spectacular natural surroundings of Lake Eibsee are often likened to impressive images from Canada.
Welcome to a memorable active vacation at Lake Eibsee!
Winter sports adventure

The Zugspitz Glacier is calling you!

Active recreation on the lake

Games, sports & fun on the water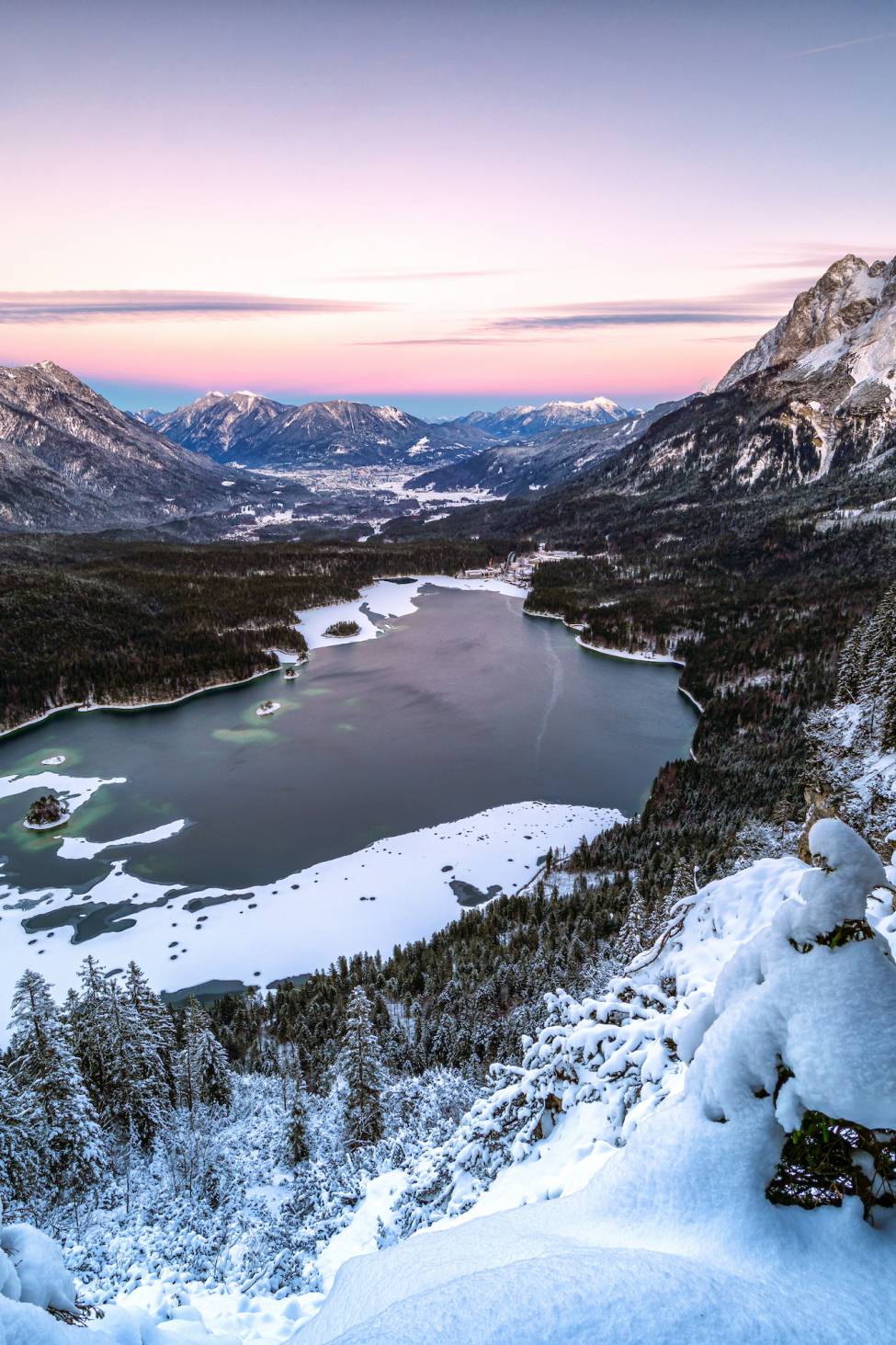 Once upon a time ...
The little story about Lake Eibsee
It all started with a big bang: In the last Ice Age, a huge landslide covering an area of 15 km² (5.8 mi2) and carrying a volume of 400 million m³ (523 million yd3) created the basin in which the Eibsee nestles today. The marvelous lake has eight islands. It also has eight underwater mountains with tops less than three meters below the water surface. The lake owes its name to the yew tree, which once commonly grew around the lake and can still be found occasionally in the region's protected forests today.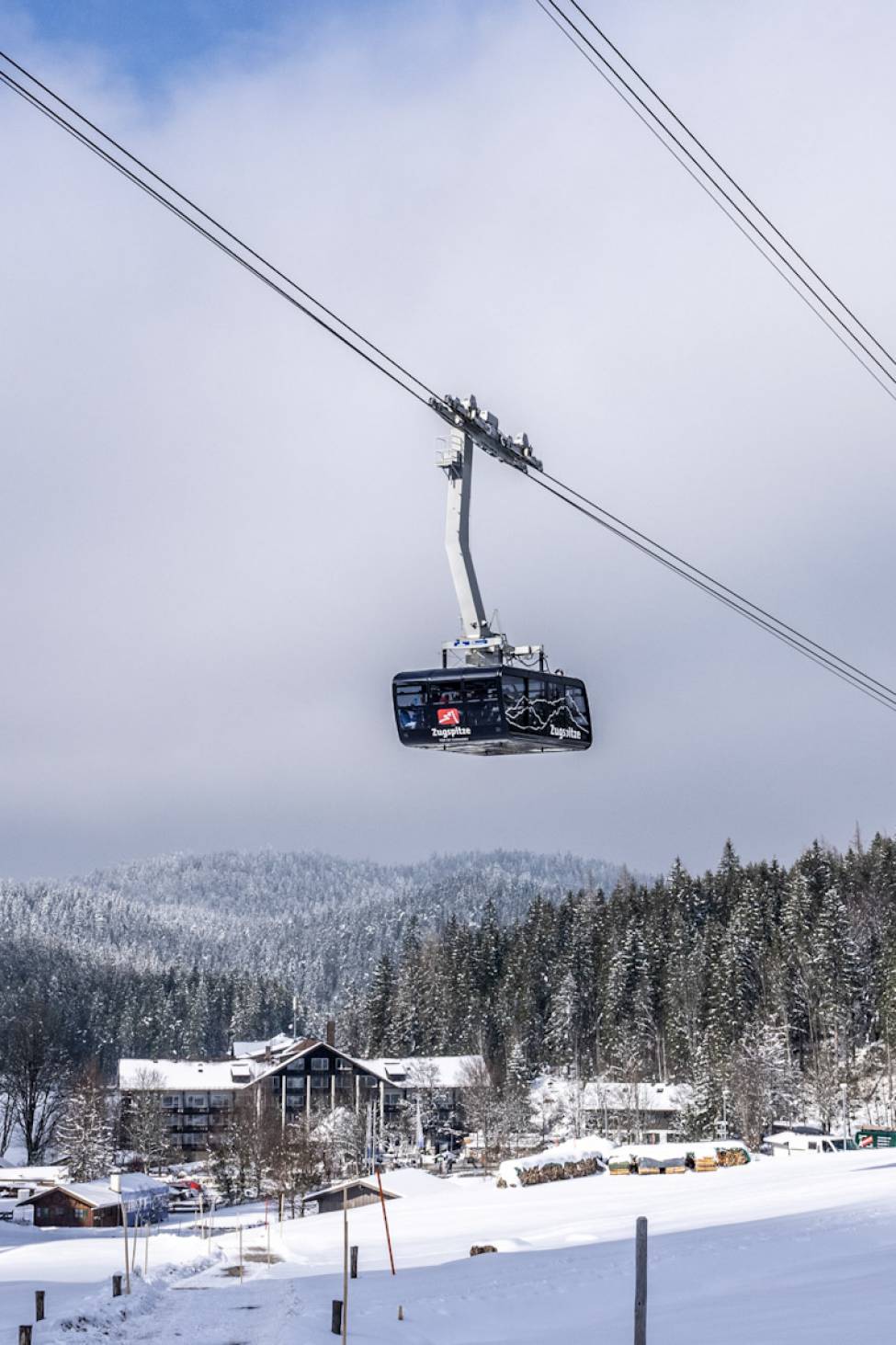 Experience Zugspitze mountain
A vacation with Germany's highest peak as your neighbor
Zugspitze is one of the top sights in Germany among visitors from Germany and abroad alike. Our hotel is the only one from where you can easily reach the station of the Zugspitze cable car tram on foot - only 471 steps, and then you're on your way to the top of Germany. This ride alone - in one of the most modern cable car in the Alps - makes a trip up to Zugspitze's summit at 2,962 m (9,718 ft.) above sea level worthwhile.
You can either make the descent in the aerial tram or choose to take the Gletscherbahn down to the Zugspitzplatt ("plate" under the summit) and, from there, take the cogwheel train back down.
Winter holidays
Welcome to our Winter Wonderland
Skiing, snowshoeing, ice skating and much more - let yourself be enchanted by our Winter Wonderland and an exciting program to match.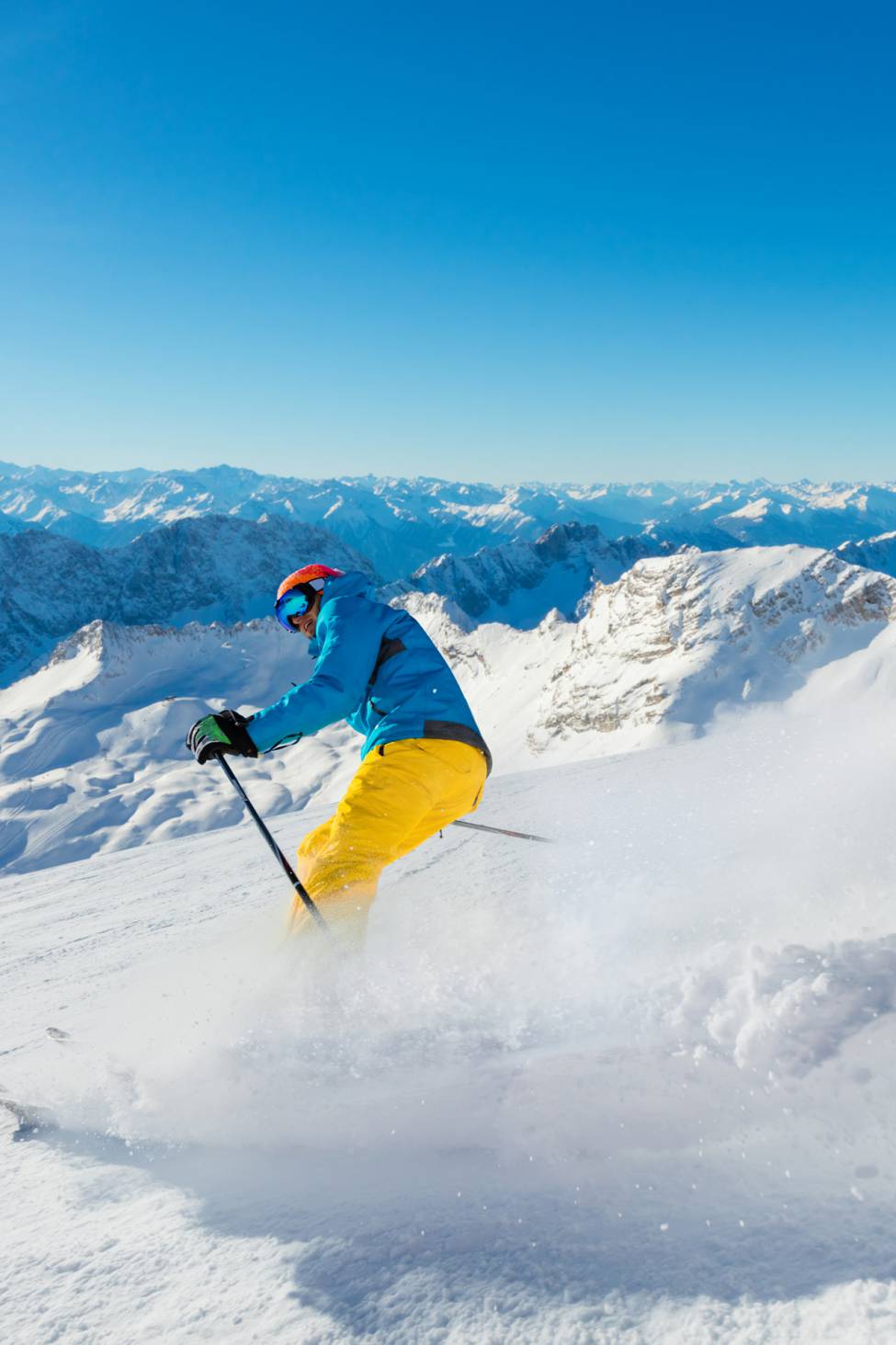 Skiing
The perfect spot for ski bums
The Eibsee Hotel's unmatched location turns every winter day into a special experience and makes skiers' dreams come true. The natural snow paradise on Zugspitze offers you the peace and quiet you long for when skiing elsewhere. At the same time, both families and skiers who like it fast can ski their heart out during fantastic runs on 20 km (12.5 mi.) of blue pistes and red pistes.
If you're looking for variety: The Garmisch-Classic ski area with 40 km (25 mi.) of pistes with snow machines and for every level of skill are but a stone's throw away.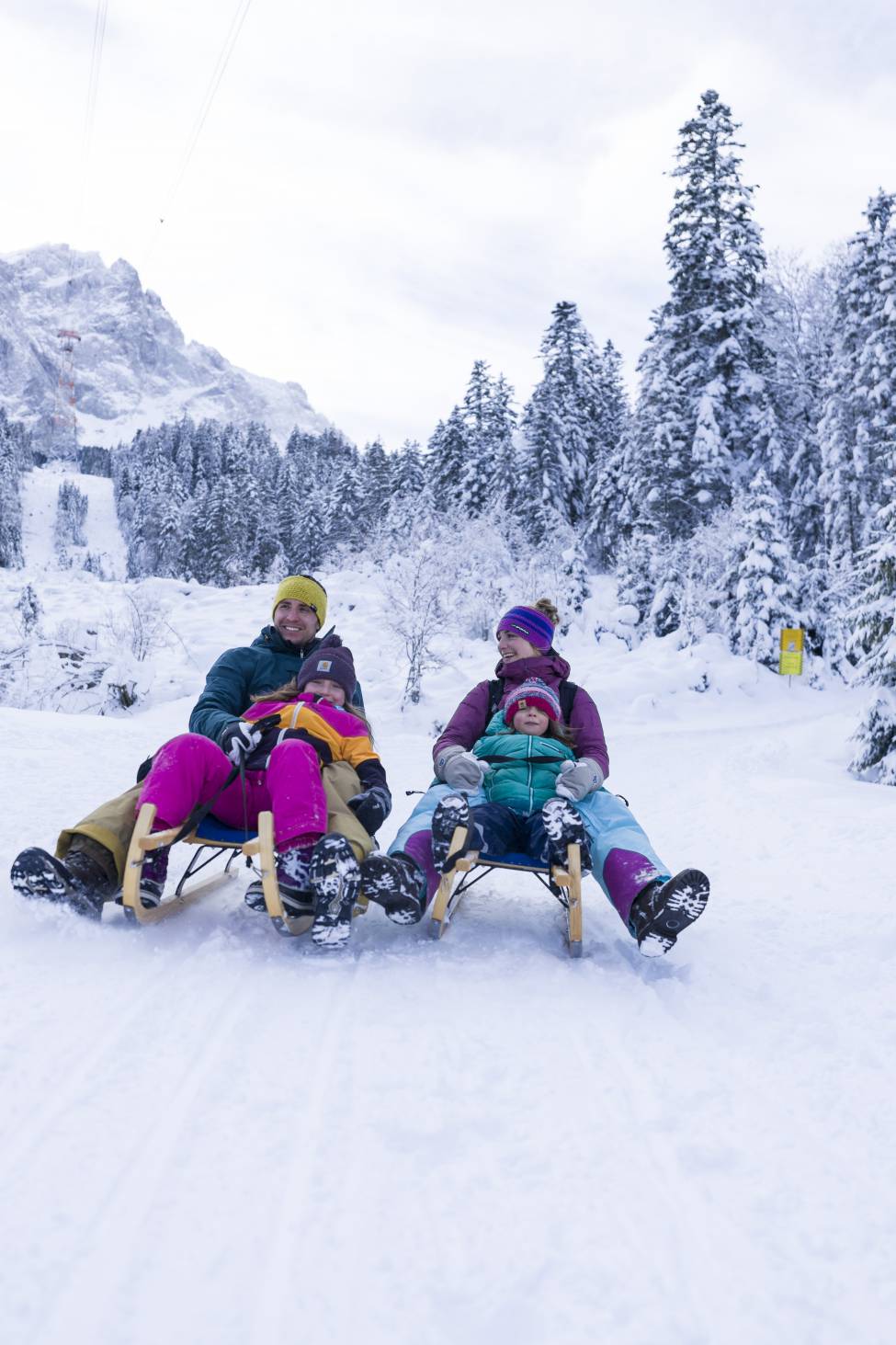 Winter landscape
Winter hiking, sledding & ice skating
Winter can be oh-so romantic ... A walk across frozen Lake Eibsee; winter hikes with snowshoes strapped to your feet or in the dark with a torch in your hand guarantee a memorable winter adventure. We also invite you for some ice skating and Bavarian curling on our natural ice rink. If the weather is not suitable or you're looking for a bigger rink, you can drive to the Olympia Ice Sports Centre in only 15 minutes or take a bus or train. Or perhaps you would like to go sledding with the kids - no problem: we have sleds available on loan for our guests.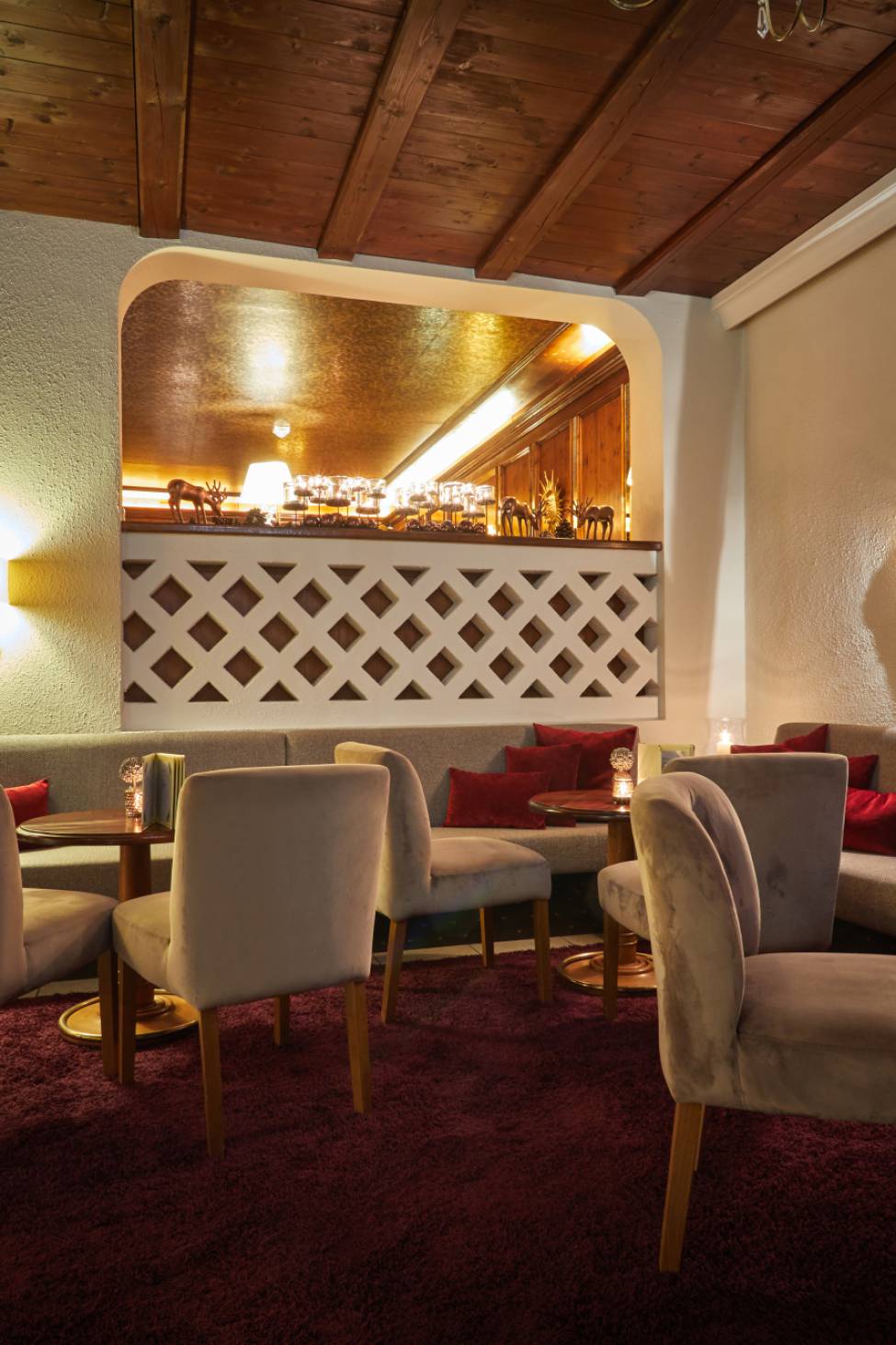 Fireplace Bar
Warm and cozy
If the weather turns cold and nasty, grab a good book and sit down near the fireplace in our Fireplace Bar with a cup of coffee or a glass of tea or maybe some hot spiced Gluehwein for added warmth.
Have no fear: You don't have to worry about getting snowed in at the Eibsee Hotel: The state road leading to the Eibsee Hotel is always cleared!
Winter recreational program
Select from fantastic activities like a ride in a horse-drawn sleigh through the snowy winter landscape of Garmisch-Partenkirchen. You can find our suggestions for recreational activities for the cold season in our brochure:
Events in the Zugspitze Region
- FIS Skiing World Cup in Garmisch-Partenkirchen
- New Year's ski jumping event in Garmisch-Partenkirchen
Summer holidays
in the Bavarian Alps
Numerous great attractions for excursions and, to top it off, everything you need for a fantastic beach vacation on the natural jewel, Lake Eibsee, make the Eibsee region especially popular in the warmer season.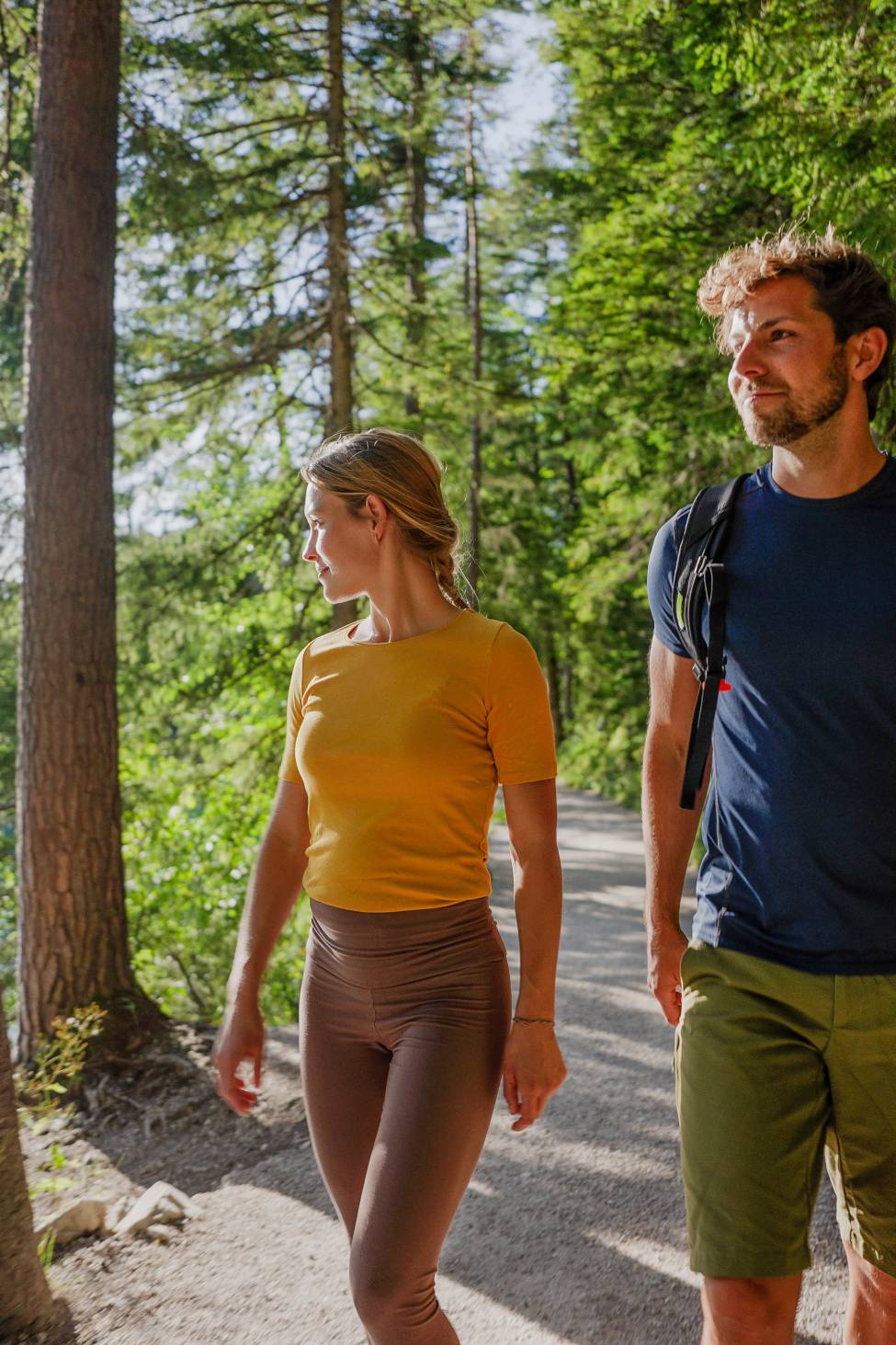 Hiking & mountain biking
From a leisurely walk to a challenging mountain hike or climb - you are sure to find your favorite tour around Lake Eibsee and on the numerous hiking trails in the Wetterstein mountains. The Eibsee region is also considered one of the most beautiful mountain bike areas in the Alps. Exciting routes and breathtaking views speak for themselves.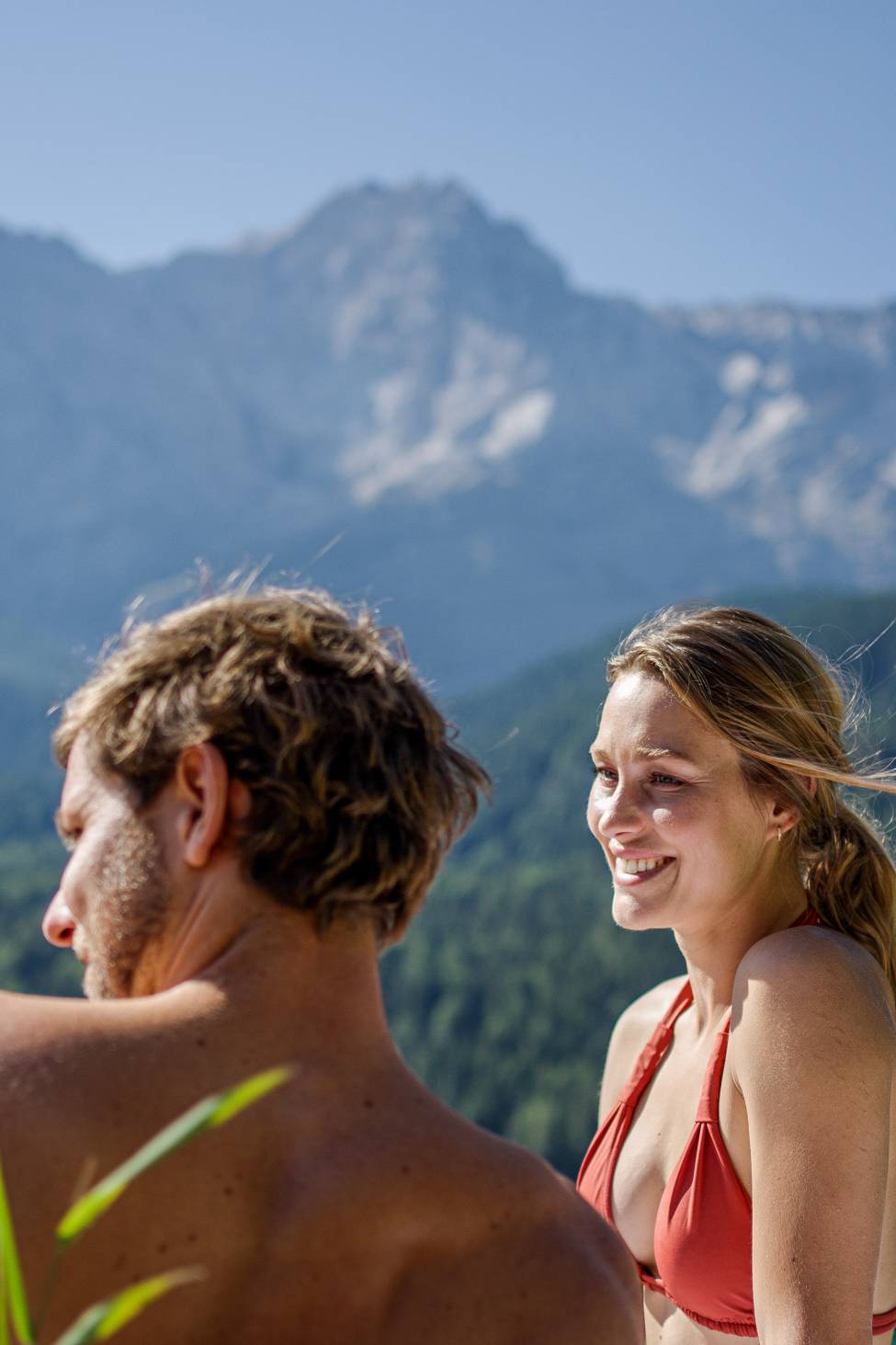 Swimming & Wellness
Your relaxation and beach vacation
Our beach on Lake Eibsee is exclusively reserved for hotel guests. Jump into the cool crystal-clear water of Lake Eibsee or glide towards the sunset in a canoe, pedal boat or stand-up paddleboard. 
If you simply want to enjoy the weather and the magnificent setting, you are always welcome to lay back on one of the numerous loungers on our sundeck, in our Birkenhof lake garden or in our Rock Garden. If you'd rather have some shade, there are plenty of spots with sun umbrellas to protect you from the sun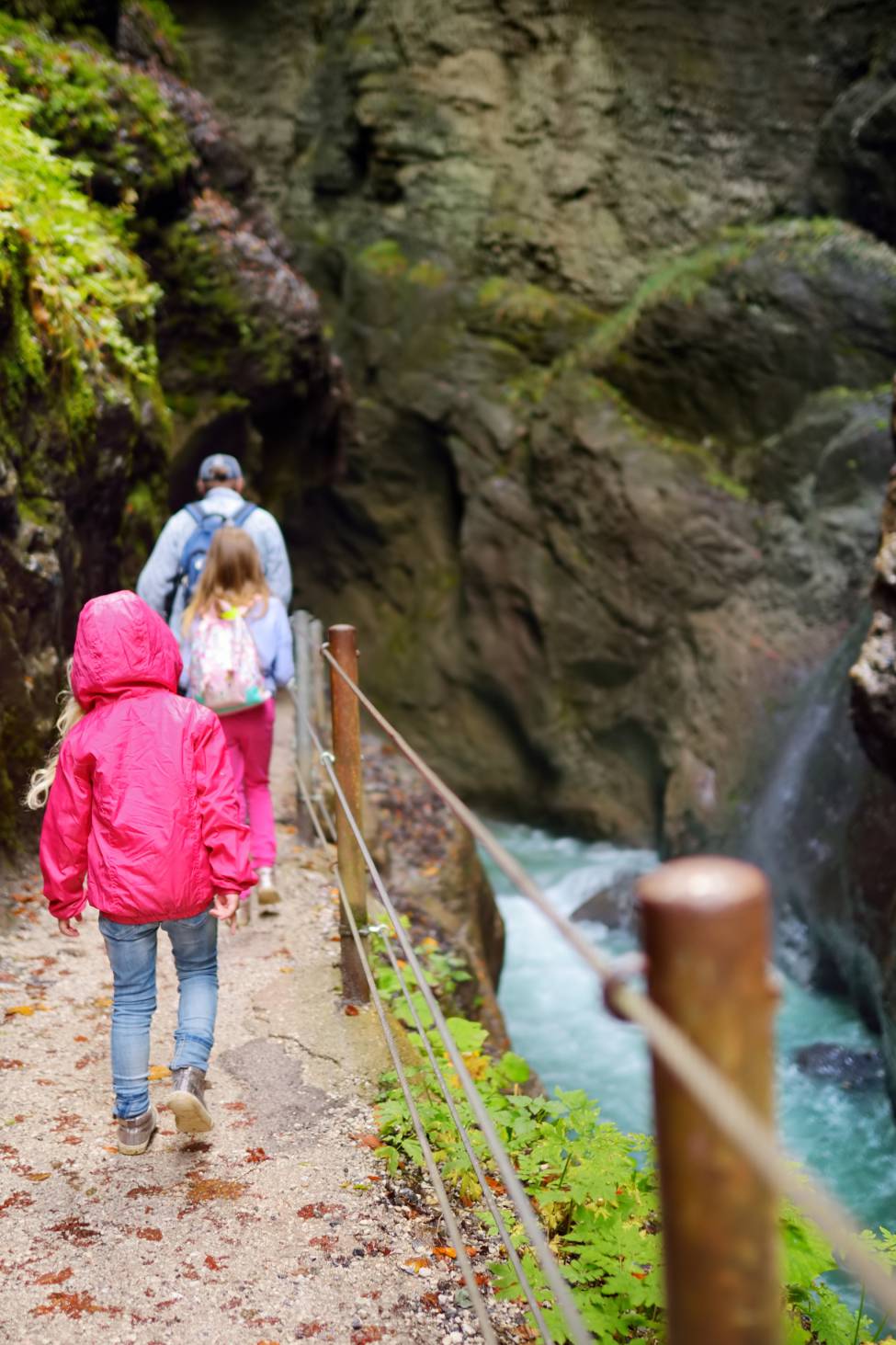 Zugspitze & excursion tips
In the summertime, Germany's highest mountain, Zugspitze, offers stunning views as well as a one-of-a-kind summer sledding experience on natural snow - with the added attraction of maybe enjoying some swimming and sunbathing down on the Eibsee Beach afterwards!.
The surrounding area also offers unique experiences for active visitors: The Partnachklamm and Höllentalklamm gorges and the most amazing royal castles of the Alps can all be found in the Eibsee region. A trip to the neighboring popular winter sports resort of Garmisch-Partenkirchen with its famous Olympic Stadium and world-class ski jump is a must-do. You will find fantastic destinations for excursions to excite both young and old throughout the Eibsee and Zugspitze Region.
Sunny recreation outlooks
You can find our suggestions for recreational activities in the warm season in our brochure:
Events in the Zugspitze Region
- Zugspitz Ultratrail in June: the biggest trail running event in Germany
- Richard Strauss Festival in Garmisch-Partenkirchen in June
Golf & tennis
at Lake Eibsee
In addition to the numerous active recreational options on the Eibsee Beach and other outdoor activities, golfers and tennis players can also practice their favorite sport during their vacation at Lake Eibsee.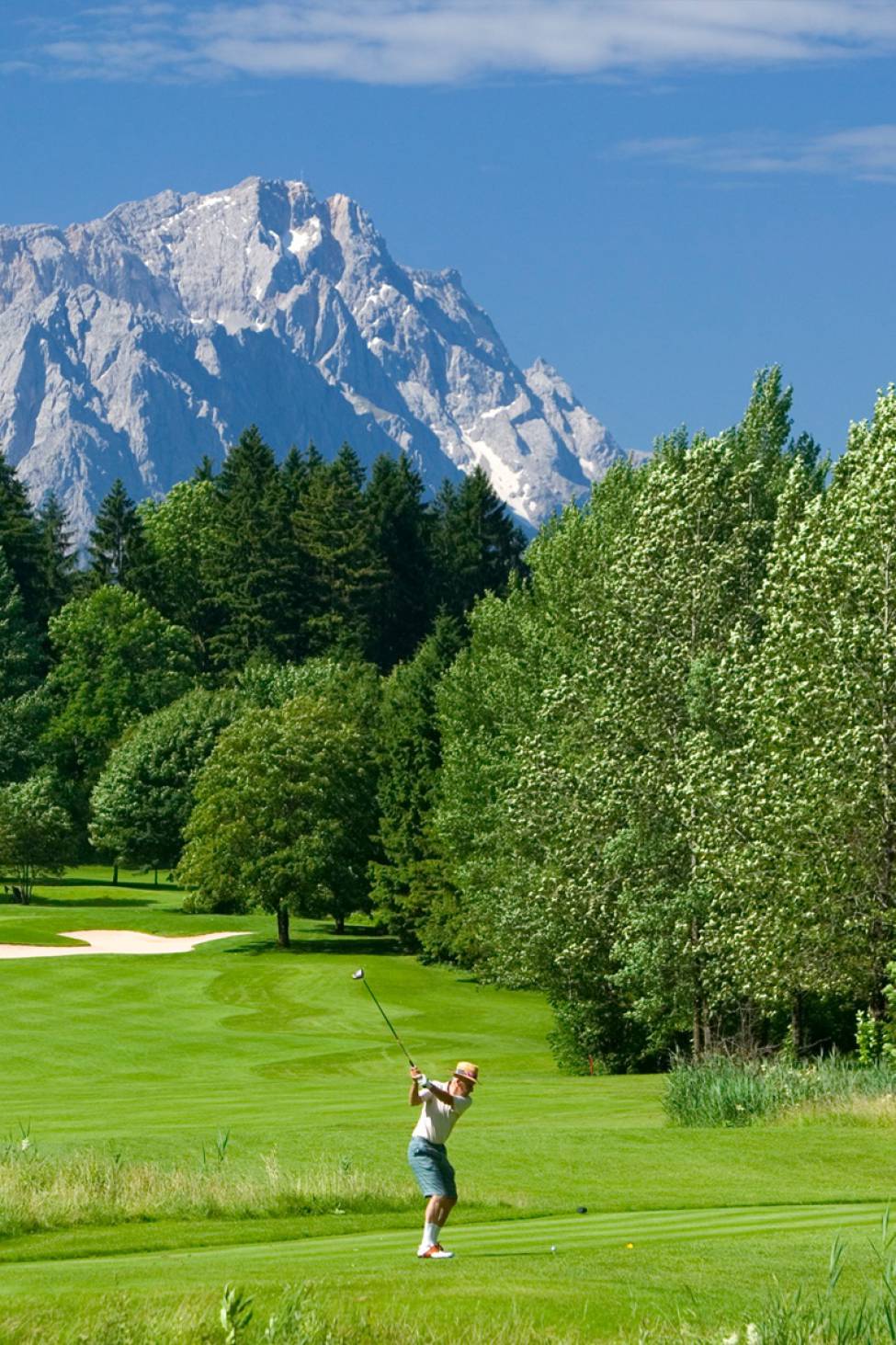 Golfing
AGAINST THE BREATHTAKING BACKDROP OF THE MAJESTIC ALPS
Tee off in an unmatched setting and experience a new quality of golfing experience. Near the Eibsee Hotel, you will find 4 top-notch golf courses lovingly integrated into the magnificent alpine landscape.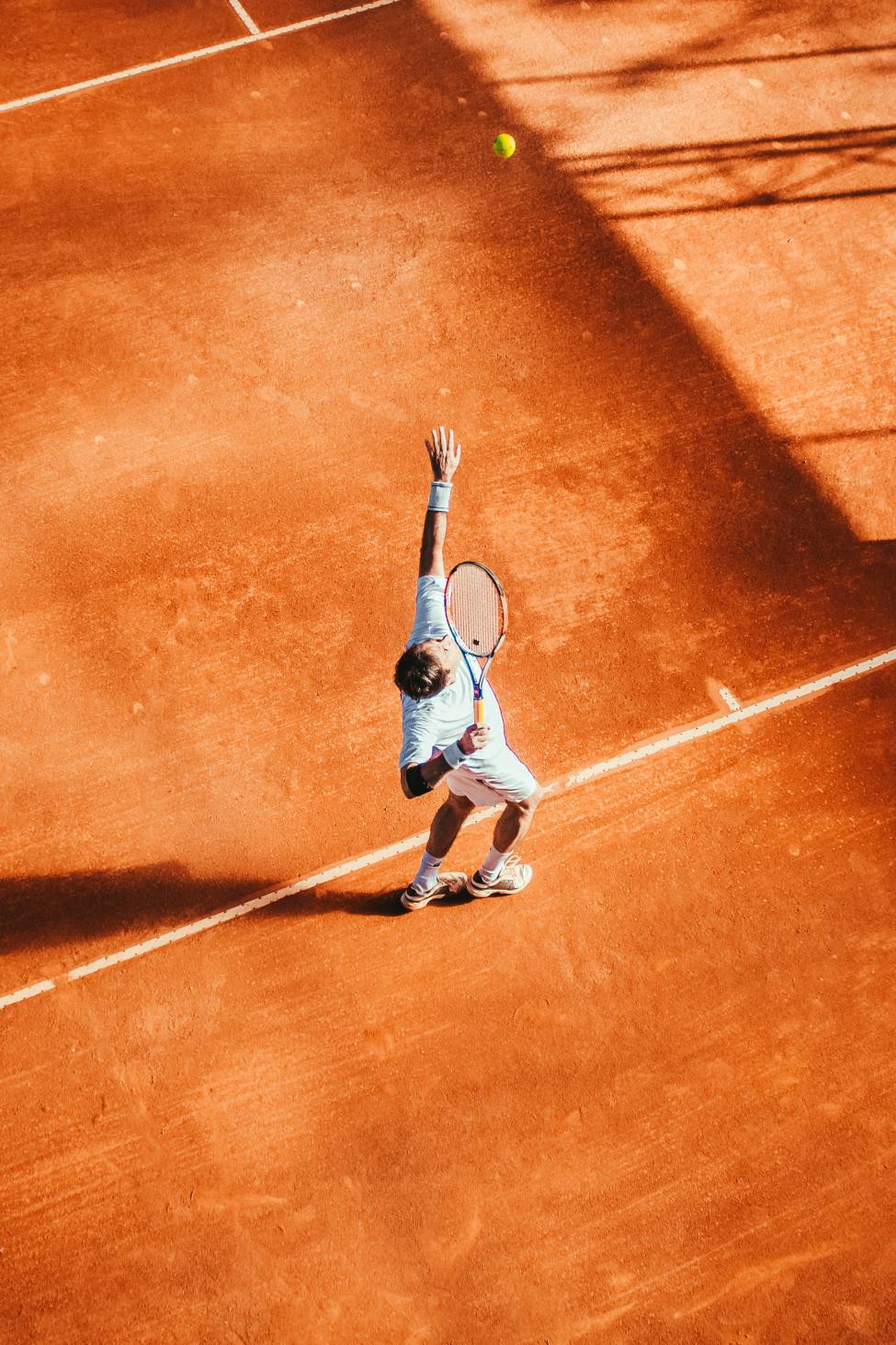 Tennis
HOTEL'S OWN PANORAMIC TENNIS COURTS
Play some tennis and see what takes your breath away first: running after the ball or the spectacular view? Tennis fans will be delighted with 3 sand courts just 100 m (328 ft.) from the Eibsee Hotel. These are available free of charge to hotel guests. We also have rental clubs available for you.
If you are a beginner or would like to improve your game, our reception staff will be happy to arrange private tennis lessons for you.
If the weather is not suitable for playing outdoors, you can play at the indoor tennis courts just down the road from the hotel.