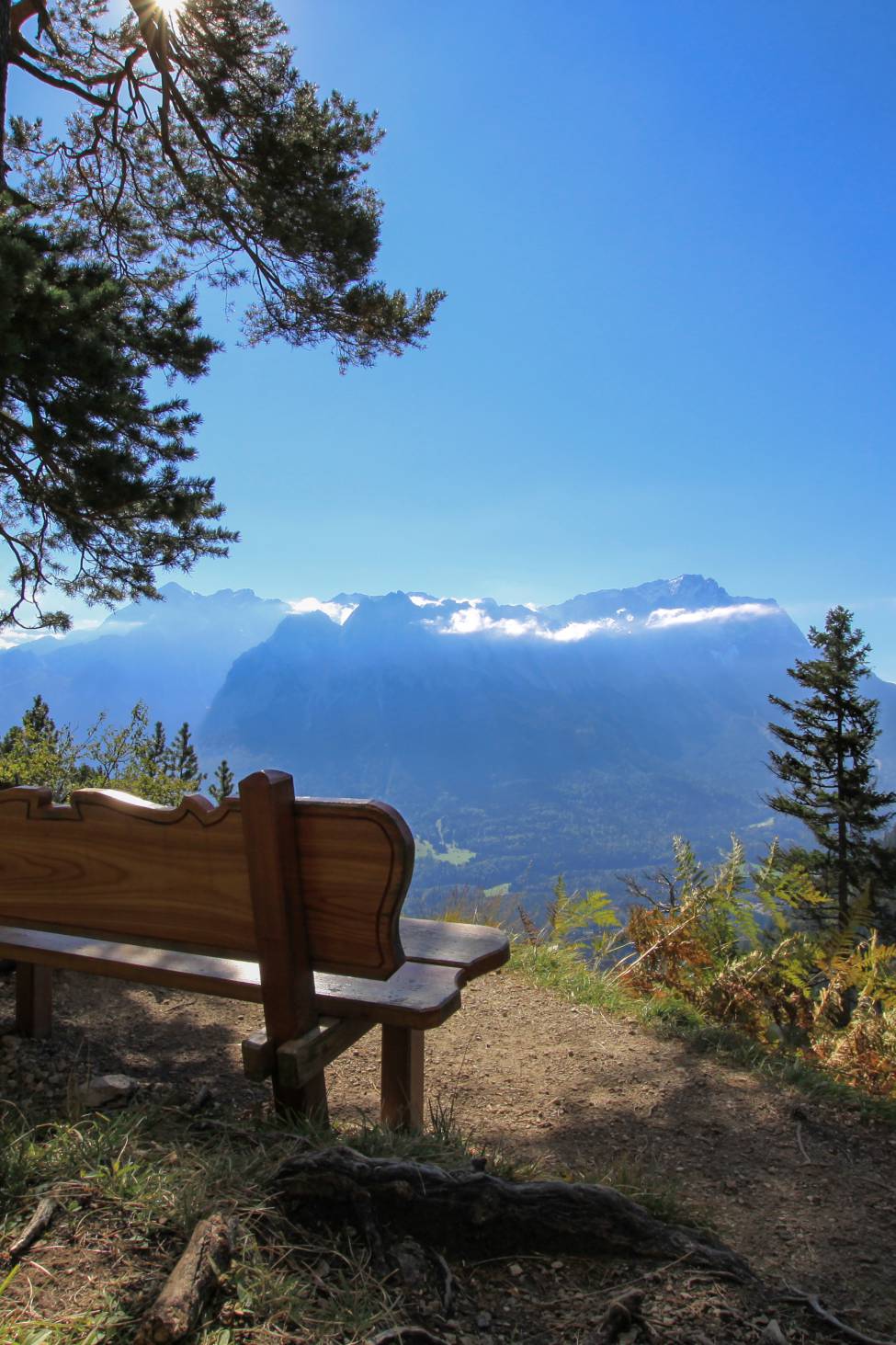 Hiking at the Zugspitze mountain
Experience awesome nature
Untouched landscapes and memorable views of Lake Eibsee and mighty mountain peaks. Hiking enthusiasts can look forward to the ultimate alpine experience at the Eibsee Hotel. The Wetterstein mountain group with Germany's highest peak, Zugspitze, is known as one of the most attractive hiking areas in the Alps.
Special services for hikers
We offer you cost-free loan of backpacks, hiking poles and umbrellas for your hiking vacation. If you would like a sack lunch / packed lunch for your hike (for a fee), please inform the restaurant or reception desk the day before the hike. You can obtain timetables and tickets for the nearby Zugspitze aerial tram and the cog railway to the top of Zugspitze at our reception desk.
Hikes at Lake Eibsee
Tips for your hiking vacation
Your adventure in the Eibsee-Zugspitze region is close at hand – plan your hikes for your vacation at the Eibsee Hotel now. When hiking the Eibsee loop trail, you will be rewarded with a breathtaking 360° view of the lake in just 1:45 hours. Start at the Eibsee hotel and hike to the Hochthörlehütte lodge in almost the same time, but with a slightly greater ascent (511 m/1677 ft.) - to be rewarded with incredible views you won't want to miss! If you are looking for a shorter family hike, the Kuhfluchtrundweg loop trail in Farchant, which is perfectly suited for families with children and holds great experiences for your little ones, is your choice.
Mountain hikes in the Bavarian Alps
Trail tips in the Zugspitze Region
For those who want to fly high: A multitude of peaks in the Zugspitze Region await you with breathtaking views. On a hike full of surprises, discover the "silent giant" towering above Garmisch-Partenkirchen: the Kramer mountain. The hike through the spectacular gorge, Höllentalklamm, to the Höllentalangerhütte lodge is another popular hike in the Zugspitze Region. Or be brave and climb Germany's highest mountain, for example on the route taking you to the Ehrwalder Alm and Hochfeldernalm lodges in Austria, then the Gatterl and the Knorrhütte lodge, and finally to the summit of the Zugspitze. You can also hike around the top of the Zugspitze, for example on the glacier where, depending on conditions, a trail from the Zugspitzplatt under the summit takes you up to the "Windloch" viewing platform.
Enjoy our Eibsee Summer
We have put together a collection of other fantastic hiking and mountain bike routes and great excursions for families in our Suggestions for Recreational Activities - Summer: