Mountain biking at Lake Eibsee
Spectacular scenery & exciting trails
The Bavarian Eibsee region is known as one of the most impressive mountain bike areas in the Alps. Select your favorite trail: from beginner to demanding, or as a family ride. Lake Eibsee is the perfect starting point for your adventure! No need to drive for miles before getting in the saddle - you will find fantastic landscape and trails just outside the front door of our hotel! 
Enjoy the sense of fragrant nature passing by and admire yet another magnificent view from the next summit.
Trail tips

for your mountain bike ride
There are numerous mountain bike routes around Lake Eibsee and in the surrounding region - we have selected some of the most beautiful ones for you. Be brave and try the demanding "MTB Trail am Eibsee" for advanced cyclists or the loop trail from Garmisch-Partenkirchen to the Partnachalm lodge and through the "vordere Reintal" valley. The "Eibseeblick & Hochthörle" route with impressive views of Lake Eibsee and a length of almost 47 km (29 mi.) offers an intensive experience of nature with a rustic alpine lodge where you can refuel - a must-do highlight for every avid mountain bike fan.
We have put together a collection of the best mountain bike and hiking routes and great excursions for families in our Suggestions for Recreational Activities: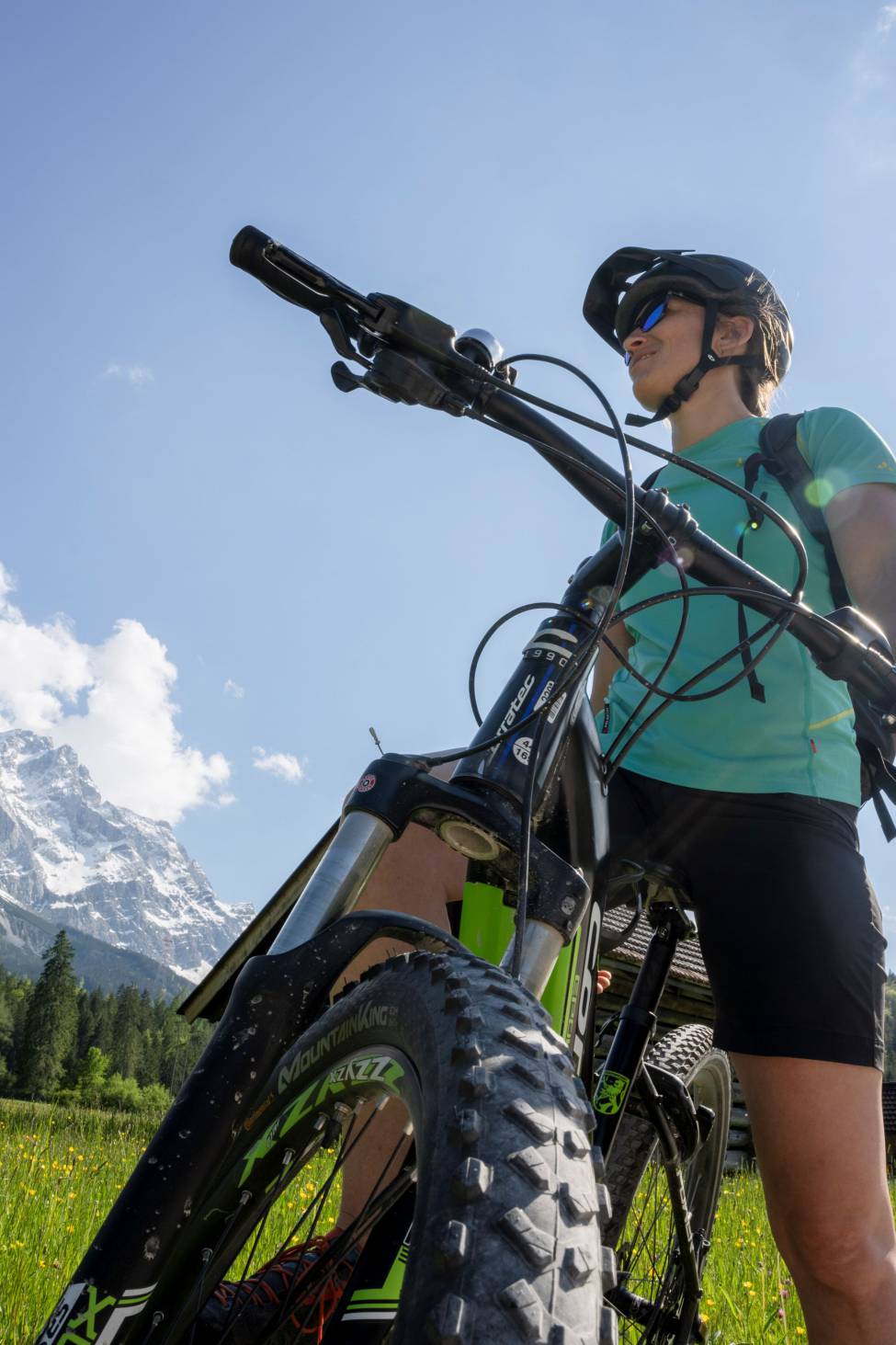 Bike rental
Rental of electric bikes, mountain bikes & children's bikes
Together with our partner, the Bikeverleih Garmisch bike rental shop, we offer KTM bikes directly at the Eibsee Hotel so you can fully enjoy your cycling vacation at Lake Eibsee without having to worry about transporting your bike. The bike rental shop, Bikeverleih Garmisch, has specialized in electric bicycles with the latest Bosch technology. You can test their bikes during your vacation and experience their word-class service first-hand! You can conveniently charge the costs to your room.
Would you like to reserve a bike now? Just book your bike as an additional service directly with your room!